Instead of "the good, the bad, the ugly," I thought I'd do it in reverse and save the best for last.
The ugly — My wetsuit-hickeyed and bruised body.  No photos!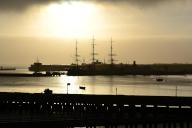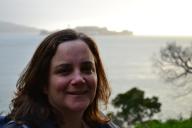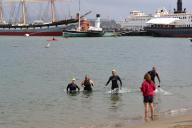 The bad — My attempted escape from Alcatraz on Saturday. Note the "attempted." Everyone kept talking about how the water was "warm." Everyone not swimming, that is. Let me assure you that 61 degrees is not warm! It was less cold than last time I swam, but the bay water still froze my brain, made my lungs contract, and set off every panic response in my body. I swam for a while but never got anywhere near relaxed. The water was extra choppy, and every time I managed to catch my breath, I got slapped in the face by another wave. I swallowed much water.
During my past open water swims, kayaks zoomed around me like vultures around a dying animal. I had to shoo them away. This time, I desperately wanted a kayak or a boat, and none were forthcoming. Finally, someone came and hauled me into his little zodiac. He transferred me to a bigger boat with a cabin. The second boat proceeded to idle about the bay for what felt like forever, until I began to feel seasick and actually asked the captain to let me jump back in the water. The captain told me he'd drop me at Fisherman's Wharf after the swim was over, and I told him, "But my husband is waiting for me at Aquatic Park. And I have no shoes." The deckhand came over a few minutes later to assure me the boat's berth in Fisherman's Wharf was not too far from Aquatic Park, and that there's a sidewalk. I'm sure there are worse things, but the idea of walking around Fisherman's Wharf barefoot, cold, and clad in a wetsuit was wretched to me. Finally, though, I just shrugged and said "Fine."
Just a few minutes later, yet another zodiac driver came by to rescue me and one of the other two swimmers aboard. He made us swear we could swim the last bit, and we promised, so he said, "Hurry on up. I'll get you to the breakwater, and from there you can enter Aquatic Park." Somehow, it was a relief to get back in the water, to know I would soon be on shore where my husband was waiting for me with a towel and a swim parka.

The good — My sweet husband was patiently waiting for me on dry land. He took some photos to document the debacle. He even awoke at 5 am to drive me into San Francisco. He held a giant beach towel up as I did the surfer-girl change by the car in the Fort Mason parking lot. Then, we wandered back toward Aquatic Park and met our friend for brunch at McCormick & Kuleto's. (There I had, if not the best at least the most hard-earned, spicy Bloody Mary ever!) Sweet husband, of course, laughed when I said, "Never again!!" and laughed even harder a few hours later, when I started a sentence with, "Should I ever try to do that again…"
***
The unrelated — Sunday it was my turn to be supportive spouse and #1 groupie. I went to the Concours d'Elegance at Stanford to listen to the San Jose Metropolitan Band play. In addition to listening to fun music in the warm sunshine, I was able to admire all kinds of fancy old cars — and some schmancy new ones, too. I fell in love with this beauty. I'm mildly obsessed! Hello, Tiger, where have you been all my life?!