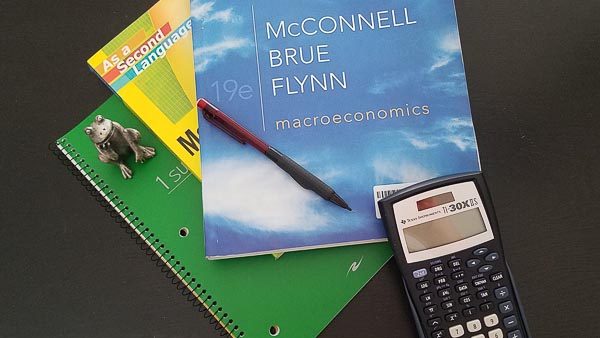 The first time I taught, I was a young-looking 28 or 29. Many of my students were in their 20s. I looked like one of them. I had to convince them I was the teacher. Last Tuesday when I walked in to my classroom at the local junior college, I had to bite my tongue not to blurt out, "I am not your teacher."
I'm a student again, though I don't have a back-to-school photo to prove it. While I've taken workshops for fun and attended seminars for work, I haven't been an official student since the 90s. My classmates weren't even born yet.
Why am I back in school? I've always loved learning, but I never took an economics class. The older I get, the more that feels like a gaping hole in my education. In high school, it's a common subject, but it wasn't taught in mine. In college I was nearly killed by pre-calculus, so anything that involved graphs or required calculators terrified me. I've since figured out a lot of economics from self-study and reading newspapers but felt I'd learned all I could on my own.
Now I have Macroeconomics two days a week — complete with textbooks, a scientific calculator, quizzes, and tests. Here's to hoping it's enlightening. Now, I've got to go read about the GDP.