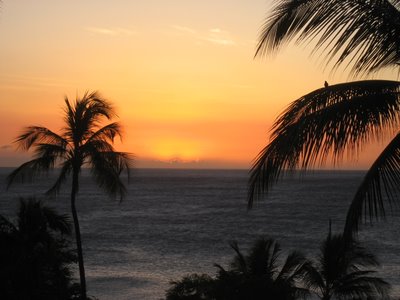 Last month, the sun set on my 30s. But as it did, I was watching the sunset in Hawaii, with a delicious mai tai in my hand and a great guy at my side. It really doesn't get better than that.
While in Hawaii, Derek & I hiked: to a beach, to the green sands of South Point (but we arrived in the dark, so who's to say if the sand was really green?), into a lava tube, and onto the crater floor of Kilauea Iki. We snorkeled near the Captain Cook Monument in Kealakekua Bay, which was, as one of our fellow snorkelers decreed, "like swimming in an aquarium."I felt like a little kid, and my mask kept leaking because I couldn't stop smiling.I could hear all my friends back home calling me "Water Baby," which just made me laugh to myself, and break the seal on the mask yet again.
If you get the chance, go to the BigIsland. It rocks!